Dekk Rubber Pads
DEKK Rubber Pads have been designed to easily fit onto existing steel tracks on excavators, profilers, and drills to prevent expensive surface damage that occurs with steel tracked machinery. DEKK pads can also help to prevent sliding while digging, reducing vibration for operators, and improving the operator's machine handling experience.
P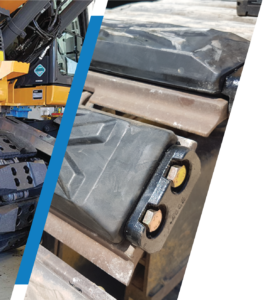 P
DEKK Rubber Pads are not only simple and easy to install but come in three main styles to suit any machine. They are supplied in pairs, packed securely in boxes with nuts and bolts included for easy transport and storage:
Remember you can use our Track & Pad Selector tool, a simple and easy to use the feature to help you find the right track or pad for your machine.
---
---
Download our rubber pad technical specifications by clicking on your choice of rubber pad:
All our rubber pads are supplied with a standard 12-month full replacement warranty for added peace of mind.
View our range of Rubber Pads below: