Bolt-On Rubber Pads
 DEKK Bolt-On Rubber Pads can be fitted directly onto grouser blades that have or haven't been pre-drilled. The bolt-on rubber pads will enable you to still use your steel tracks when required and then change over to the rubber pads when you're operating your machine on surfaces that need minimal surface damage to occur.
B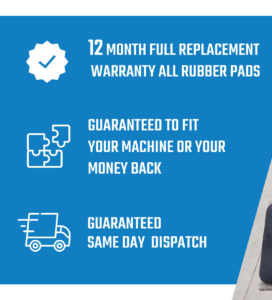 B
The core features and benefits of the Bolt-On Rubber Pad are:
-Use of heavy-duty rubber compound to provide added strength and greater wear resistance in all types of applications and conditions. This also helps to reduce vibration and noise.
-Use of solid, heavy-duty, 4mm steel core to provide added strength, reduce pad flex and delamination
-Dome nuts to ensure threads remain clean and undamaged making the job of removing and installing the pads quick and easy
-All Bolt-on pads are packed with dome nuts & washers fitted, in clearly labeled boxes for ease of identification, handling, and transport
Choose your make and model of Bolt-on Rubber Pad below:
Showing 1–24 of 501 results
Brand
Model
Details
Part #
Image
Warranty