Bolt-On Rubber Pads
 DEKK Bolt-On Rubber Pads are designed to fit directly to grouser plates that have been pre-drilled to suit the bolt through type fastening.

The precision fit bolt-on rubber pads are available for most makes and models up to 35 Tonnes.

DEKK Rubber Bolt-On Pads are produced using unique rubber compounds that allow maximizing traction and wear while making minimal impact on the ground and reducing damage to roads and other solid surfaces.
B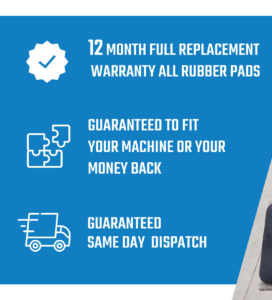 B
The core features and benefits of the Bolt-On Rubber Pad are:
-Use of heavy-duty rubber compound to provide added strength and greater wear resistance in all types of applications and conditions. This also helps to reduce vibration and noise.
-Use of solid, heavy-duty, 4mm steel core to provide added strength, reduce pad flex and delamination
-Dome nuts to ensure threads remain clean and undamaged making the job of removing and installing the pads quick and easy
-All Bolt-on pads are packed with dome nuts & washers fitted, in clearly labeled boxes for ease of identification, handling, and transport
Choose your make and model of Bolt-on Rubber Pad below:
Showing 1–24 of 501 results
Brand
Model
Details
Part #
Image
Warranty