Frequently Asked Questions
Can't Find What You Need Below?
• Contact us on 1300 335 528 or [email protected]
• Make an enquiry 
• Visit one of our branches
Does Dekk deliver rubber tracks & pads Australia-wide?
Yes, we do and we offer same day dispatch if you place your order before 3 pm, Monday to Friday.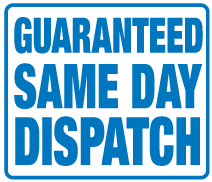 How do I set up a trading account with Dekk?
Simply download our trading account application form, then complete and return it to our Accounts team. Fax the completed form to 1300 661 797, or scan and email it to [email protected]. We'll be in touch ASAP to confirm your account.
What are your trading hours?
We are open for business Monday to Friday from 7 am to 5.00 pm. We are closed on public holidays and weekends.
I've just sent an enquiry. How long will it take to get back to me?
We endeavor to respond to all enquiries and quote requests within an hour.
You can make enquiries or request a quote by calling 1300 335 528 or emailing [email protected].
What are your landline phone numbers?
You can use our 1300 335 528 free-call number to contact us. Alternatively, you can call our local branches in WA, QLD, and NSW on their respective landline numbers. Visit our Branch Locations page for more info.
What material is used to make your rubber tracks and pads?
A heavy-duty, natural & synthetic fiber virgin rubber compound is used for all of our rubber tracks & pads.
Our rubber tracks (excluding the ASV rubber track range ) are manufactured using a precision fitted steel core bar and continuously wound, high tensile steel cable. ASV rubber tracks are manufactured using a non-steel, kevlar belt core for greater durability and reduced stretching.
Do your rubber tracks & pads come with a warranty?
Yes, they do. All of our rubber tracks & pads are sold with a 12-month Full Replacement Warranty. In addition, our range of Excavator Rubber Tracks is sold with the industry first, 24-month Full Replacement Warranty, for added peace of mind.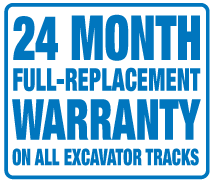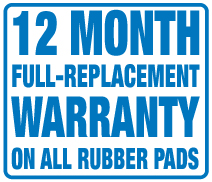 How do you measure rubber tracks?
You can measure your rubber tracks by using 4 key elements.
1. The width of the rubber track
2. The pitch type of the track
3. The number of lugs on the rubber track
4. The space between each lug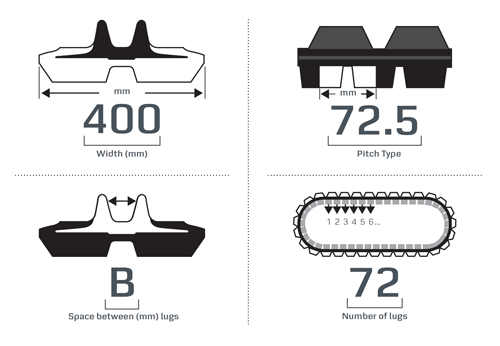 You then use this information to determine the size of your rubber track. For more detailed information on how to measure your rubber tracks click on this link.